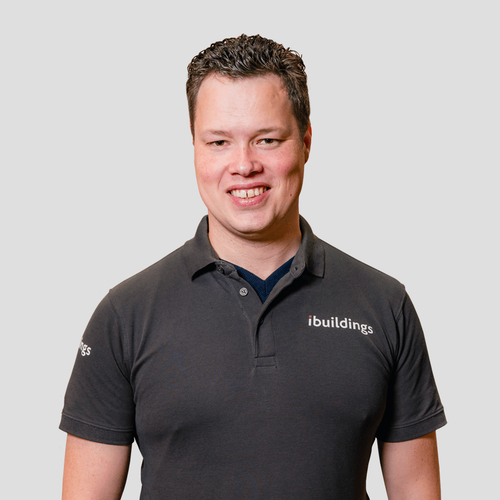 Just over two years ago, Johan was quite impressed by the 'die-hard developers' at Ibuildings. At the time, he did not expect to become one of them. Nevertheless, he gave it a try and has now discovered that it gives him much more energy!
"I knew Ibuildings from meet-ups. Here, they always radiated that they had very high quality standards. A friend of mine was also already working for Ibuildings and he really enjoyed himself here. I didn't expect it to work out so well that I would also work here and be able to derive so much pleasure from my work again, but after a little over two years at Ibuildings, I can truly say that I'm at the right place!"
What was your first experience like when you started at Ibuildings?
My first experience was that the staff are given authority to do their jobs. What I also noticed right away was that interns are also fully involved right from the start. They get the same voice and the same information. Furthermore, the quality standards we apply at Ibuildings really are of a different level. Everyone strives for 'best practice'. This means that your colleagues immediately lift you to a higher level. Before this, I had worked as a Developer for another company for 10 years. It took me a while to figure out where I was in terms of level in the beginning, because I always worked there through different standards, but you grow really fast here! In addition, there is a lot of transparency about what goes on in the company.
Where do you see this transparency?
Once a year, for example, the vision of the future is shared with all employees. Then there is room for ideas and critical questions. If something is bothering you, you can always tell them directly. At Ibuildings, we really work on the basis of: what do you need? Initiative from the employees is always appreciated and something is always done with it.
How would you describe your club and your colleagues?
As 'die-hard developers'. We are all on the same page and we speak the same language. Professionalism is a high priority and everyone is very driven. We always want those challenging assignments; that's where we get our energy from! It gives me great peace of mind that everything is running so smoothly and that you are informed immediately if anything goes wrong. You don't have to keep the balls high for your colleagues. Everyone does their work and tasks well and you can really rely on each other.
What does the cooperation look like in your company?
We always work in small groups and that actually works very well! I came in as a Senior Developer, but we also have a number of really good experienced developers who fulfil the role of Lead Developer. You can ask them anything and learn a lot from them. That is one of the reasons why I came and stayed there. I really like the collaboration.
If you had to choose, who would you want as your new colleague?
Someone who shows a lot of initiative and is very eager. If you are eager to learn, this is the right place for you. I don't think you'll pick it up quickly if you don't have the same drive. But good! When I was at my previous employer, I also didn't expect to be able to get so much energy out of tough assignments. Fortunately, I tried!
---