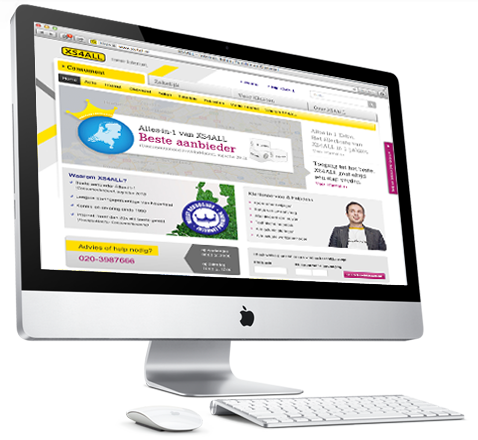 Ronald Renes is Software Development Manager at XS4ALL and leads a team of 30 employees, including both architects and developers. His department is responsible for the complete internal automation. This includes, among other things, the ordering, delivery and serviceability of the various services of XS4ALL. In everything we do, security and privacy are of paramount importance', says Ronald. Not only in our department but throughout XS4ALL. We do a lot to continuously improve this.
In the meantime, we have built up a lot of expertise internally. Why did we contact Ibuildings? We know there are no major errors in our code, but programming remains human work and there are definitely things to improve in the code. With a training we wanted to see what we can do even better in the future'.
XS4ALL and Ibuildings good match
Ronald: 'I didn't immediately have a party in mind for the training, but one of my senior developers had good experiences with Ibuildings when he was still working at KPN. Even though we, as XS4ALL, didn't have any experience with Ibuildings, we obviously knew Ibuildings by name. It is a well known name in the PHP world with a good reputation. Already at the first interview it turned out to be a good match. Ibuildings immediately came up with professionals and soon they turned out to be good interlocutors for my team. That was essential for me and gave me confidence in the cooperation'.
The Ibuildings training method
Thorough preparation for a tailor-made training always pays off. This is the approach of Ibuildings and it distinguishes them from other parties. Ibuildings dives into depth with the client before the start of the training. First of all in a brainstorming session. In this session it becomes clear what the training question is exactly. Ibuildings then conducts a one-on-one in-depth interview with all participants. In this way it becomes clear what each participant's individual points of attention are and a thorough training plan can be set up. Ronald agrees: 'Ibuildings knows better than anyone how to make a training course attractive to the participants.
The training was well attuned to the developers: in small groups with appealing examples. Special in our case was of course that we worked with our own code during the training. You notice that this aspect makes it even more interesting for the participants'.
Customized training ensures awareness and uniform approach
Ibuildings' tailor-made training courses are always 100% geared to the client's situation and bring an entire team up to the same level of knowledge. Ronald explains that he had another important goal in mind. Through this training I wanted to create even better awareness in the field of privacy and security. The training not only taught us how to make mistakes, but also gave us more uniformity in our approach and methodology. Together we went through the whole setup of the training in detail beforehand'. Another puzzle, explains Ronald. The classification of the groups had to be such that each participant would have enough challenge.
My team is quite critical and consists of professionals with a passion for what they do. They like training, but from a party from which they can learn something new. Not always an easy task, but the match with Ibuildings was immediate. The structure of the training fitted in well and the professional knowledge that Ibuildings brought in was appreciated. Suppose we soon have to deal with a structural change and need help from an external party, then Ibuildings is the first party I call. Not just because I have confidence in it as a manager, but because the whole team has'.