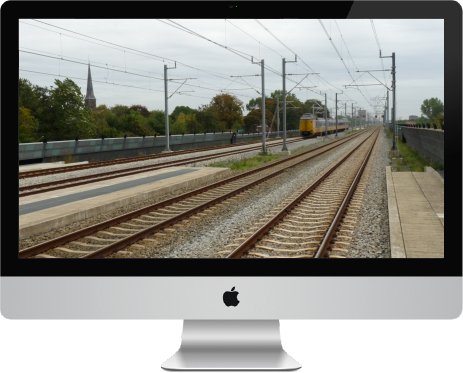 Safety comes first at Strukton Rail. That is why the organisation carries out a Risk Inventory and Evaluation, an RI&E, for each job. A total of some 25,000 per year and that number is growing. Gerard Keizer, Manager Business Processes, and Erik van Norden, Consultant Business Processes, explain why they have developed a new RI&E tool with Ibuildings under the name Iworkx Veiligheidsplan.
Excel outgrown
Strukton Rail made RI&Es for maintenance work and projects in Excel. That went well, until the sheets became more and more complex. More activities, more regulations. Making a good Risk Inventory in Excel became a tough job. Work planners had to fill in a lot of data. The safety instructions for the rail workers were long, with a lot more information than they needed for their work. Erik van Norden explains: "In order to solve this, we developed a new methodology.
From probability calculation - what is the probability that a situation is unsafe - to insight beforehand: what is the local railway situation, what working method do we use, and how do we adjust our safety accordingly? This method, which was more manageable and more efficient, was the decisive factor in the development of the Iworkx Safety Plan".
Manageable open source solution
Gerard Keizer: "Our new solution had to be based on a manageable database structure. We had already grown towards that in Excel. In addition, we wanted the complicated calculations to be done 'under the hood' of the tool. After all, that meant saving time and ease of use for the work preparers. In addition, we wanted an open source solution. That fitted in with our existing IT environment and with open source, you don't pay any annual license fees. That also counted. As a specialist in PHP development, Ibuildings quickly proved to be the right partner.
Concrete result
Erik van Norden: "We had already developed a demo model for Iworkx Safety Plan ourselves. Example screens, a database structure and a proof of concept. This allowed Ibuildings to get off to a quick start.
From the beginning they have always focused on the end result. This is very important, because the end user is also central to us. They asked critical questions, thought logically and quickly mastered our material and our way of thinking. We were on the same wavelength." Gerard Keizer adds: "What also appealed to me was their 'hands-on' mentality. They picked up our information very independently and converted it into concrete proposals. No endless discussions or paperwork, but just showing what you mean."
Iterative development
Gerard Keizer had a clear picture of the project's progress. He wanted a small project group with directly involved people. Moreover, he wanted a working basic tool with visible results as soon as possible. Ibuildings responded to this by developing iteratively.
"They always delivered subprojects, so we created support and kept a good overview. Not only on the scope of the project, but also on cost and time. Despite some essential project changes, we stayed within budget with enough room for the necessary tests. Ibuildings, for example, paid attention to that. The project also stayed within time. If anything ever went wrong, the cause was not Ibuildings, but we needed more time ourselves," says Gerard Keizer.
Time savings: we'll make a good RI & E in 5-10 minutes now
Iworkx Safety Plan is essential for safety and risk management at Strukton Rail. The system provides insight, certainty, time savings and clear communication. Erik van Norden: "We now know in advance all the specifications, the risks and the measures we need to take. And we are 100% sure that all safety measures comply with legislation and regulations, because the tool tests each measure directly against the statutory regulations in the database. Not permitted? Then we have to organise the work differently! Gerard Keizer adds: "We have also become much more efficient.
We now make a good RI&E in 5 - 10 minutes, where it used to be 30 - 60 minutes. The calculation is done in the background. The safety instruction now also fits on two A4 sheets and contains not only the risk of collision and electrocution, but also the other occupational health and safety risks. Much more complete than before".
1+1=3
By now, the entire organisation is working with Iworkx Security Plan and the users are positive. Erik van Norden: "We do keep our finger on the pulse and continue to motivate people to comply with all the safety rules in the RI&E. This is going better and better, also because we as an organization make an effort to follow up user feedback. With new functionality in the software, for example". Gerard Keizer adds: "We have plans to roll out the tool to our foreign branches and then possibly also externally, to other organisations within the railway industry.
Together with Ibuildings we're getting one step higher. We strengthen each other: we with our railway knowledge and clear specifications, they with their software knowledge and experience. That's how we achieve the '1+1=3 effect'."